Well Equipped Classroom Facility
A well-equipped classroom facility is crucial for an effective learning environment for students. At P.N National Public School, we create an environment that encourages involvement, cooperation, creativity, and critical thinking through our well-equipped classroom, giving students the tools and resources needed for academic achievement and future endeavours.
Comfortable furniture, such as chairs and desks, helps students to maintain proper posture and reduces the risk of discomfort. Our good seating support ensures students can focus on learning without distractions.We provide sufficient desk space that enables students to work efficiently and helps them to organize their belongings.
Adequate Lighting and Ventilation:
We provide a comfortable learning environment in the classroom having an effective ventilation system. Our classroom is well-distributed natural light that allows students to see clearly and focus on the tasks without discomfort. We believe good lighting supports alertness and concentration, enhances concentration and promotes better engagement in learning activities.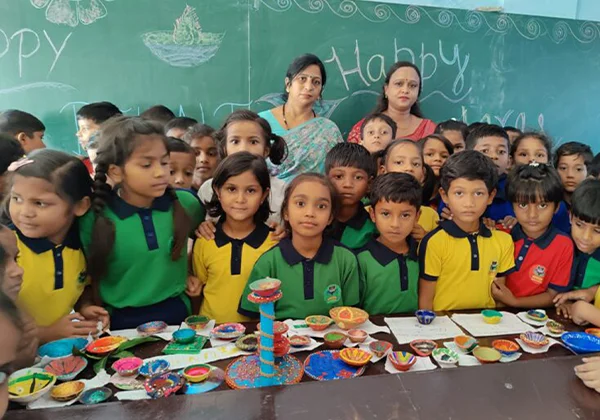 Our smartboards in classrooms offer numerous benefits and opportunities for interactive learning experiences for students. We incorporate multimedia components such as movies, photos, audio notes, interactive instructional software and other online learning resources to engage students. We focus on enhancing understanding and making lessons more visually appealing.
We use projectors, digital presentation and digital media players to play audio and video content. We use display screens to showcase educational videos and multimedia resources during lessons. We use speakers to ensure clear and audible communication in our classrooms and during presentations for student engagement.
We provide designated spaces such as cabinets, shelves, and storage bins to make it easier for teachers and students to access the materials they need during the class. We also maintain regular maintenance of cabinets, shelves, and storage bins for proper functionality and smooth flow of classroom activities.
Incorporating various art materials into the classroom environment fosters creativity and artistic expression. We offer a variety of creative supplies like glue, scissors, glitter, beads and yarn for art and craft projects encouraging creativity among our students.
We believe that access to materials, tools, and technologies in well-equipped classrooms enhances students learning process. At P.N National, we continue to provide organised resources and essential classroom facilities to foster a sense of peace and order. We design a welcoming and active learning environment that gives students to learn new skills and prepares them for success in the modern world.