Give your child the 𝗚𝗶𝗳𝘁 𝗼𝗳 𝗘𝗱𝘂𝗰𝗮𝘁𝗶𝗼𝗻 and a 𝗕𝗿𝗶𝗴𝗵𝘁 𝗙𝘂𝘁𝘂𝗿𝗲. 𝗔𝗗𝗠𝗜𝗦𝗦𝗜𝗢𝗡 𝗢𝗣𝗘𝗡 for 𝗕𝗼𝘆𝘀 & 𝗚𝗶𝗿𝗹𝘀 from 𝐍𝐮𝐫𝐬𝐞𝐫𝐲 𝐭𝐨 𝐜𝐥𝐚𝐬𝐬 𝐈𝐗 𝐚𝐧𝐝 𝐗𝐈.
Honoured to receive 𝐓𝐡𝐞 𝐈𝐜𝐨𝐧𝐢𝐜 𝐚𝐰𝐚𝐫𝐝 from Shri Giriraj Singh Minister of rural development and Shri Nityanand Rai Minister of state for Home affairs Government of India.
P.N. National Public School is one of leading chains of CBSE schools in Gorakhpur. The P.N. National Public School is appropriately referred to as a "temple of learning". With smart classrooms, a revised educational philosophy, first-rate infrastructure, and a technology-integrated curriculum, we are reimagining education for future generations. Our School synchronise programme for class 9 to 12 for board+ IIT-JEE, NEET, CUET, CA,CS,NDA,NIFT. The Iconic Award from Shri Giriraj Singh, Minister of Rural Development, and Shri Nityanand Rai, Minister of State for Home Affairs, Government of India, has recognised our invention. The goal of the school is for each student to develop their entire personality. As they are prepared to become citizens of our nation as well as the rest of the globe, the kids learn how to show and receive respect. There are presently 2 schools under its aegis, both within Uttar Pradesh, one in Gorakhpur and second one is in Kushinagar.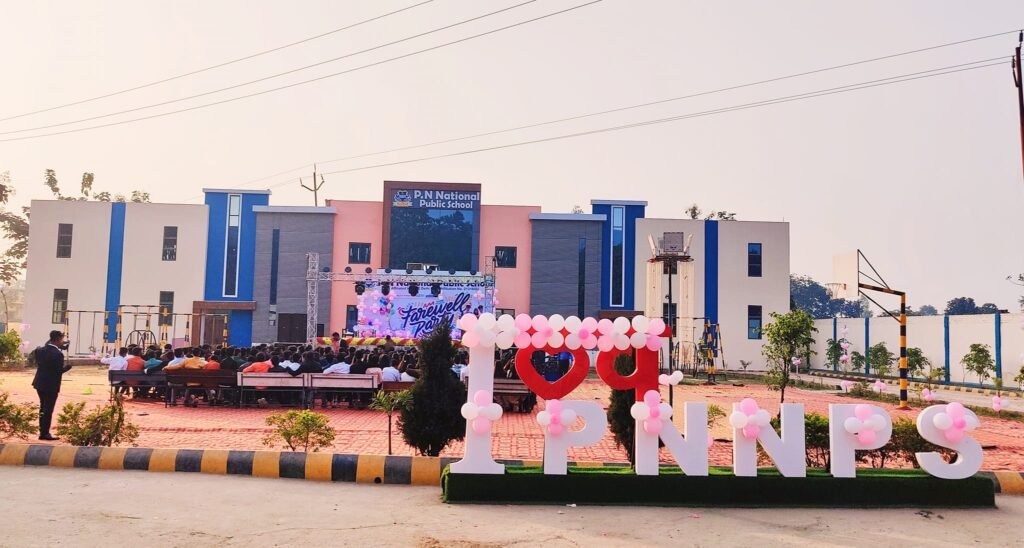 About PNPS Schools Society are places where:
In order to improve the students' quality, the students' intellectual, social, emotional, physical, spiritual, and artistic growth is encouraged. A huge number of youngsters who want to develop into educated, liberal, and enlightened adults are in need of meaningful education, and the expanding number of schools under this organisational umbrella shows how this need is being met. With their visionary approach and high values, the organisation, which was founded and is run by notable members and luminaries of the community from all walks of life, has been leading its member schools on the path to advancement. Consequently. P.N. National Public Schools have become into important learning hubs. Our guiding principle is to offer holistic growth with a strong moral foundation. Our continual efforts focus on supporting character development and cultivating children's natural curiosity, fostering a scientific temperament, and enhancing social ties.
Despite only concentrating on theory and grades, our professors make sure that students are satisfied and comprehend the fundamental ideas. So that our pupils can keep up with the rapidly changing world, we include technology into the curriculum.
We are the parents at school if you are the teacher at home for your child. Our highly qualified instructors are in charge of the academic and personal welfare of the kid, making certain that the youngster approaches obstacles with bravery and a problem-solving mentality.
In order to live up to parents' expectations, school provide children with rigorous, competitive and creative programmes, good facilities, and top-notch teachers. For total improvement, learning extends outside the classroom through a variety of extracurricular activities.
Best in class Infrastructure
A top-notch infrastructure supports academic and extracurricular activities at school. Since hands-on instruction is our primary focus, we offer science laboratories, computer labs, robotics labs, and a planetarium, all of which are essential resources.