Safety is of utmost importance when it comes to transporting students. At P.N National Public School (CBSE School in Gorakhpur), we understand the importance of transportation and acknowledge the challenges students may face during travelling. We offer transport facilities for students in urban or remote areas to get safe and convenient means of reaching the school premises. The vehicles used for transportation are well-maintained, regularly inspected, and meet safety standards.
Our transport facilities include bus services equipped to transport students.Our vehicles operated by trained drivers only. The school administration is responsible for managing the transport facility with adherence to safety regulations. Our main concerns regarding transport facilities for the students at P.N National Public School include :
We have special school buses for our students that travel along specific routes to pick up and drop off children at designated locations.These buses operated by trained drivers with safety features.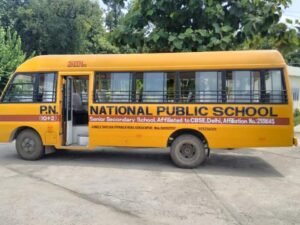 The start and end time of the school aligned with the schedules of the school bus which allows students to arrive at school on time and return home right after classes.
The transportation bus is well-kept, inspected frequently, and adheres to safety regulations. Licences, experience, and training in handling student transportation should all be requirements for drivers.
We maintain an appropriate schedule for the transport facility with assigned route specifying the pick-up and drop-off timings for the students. We provide effective transit for all students, making it simple and safe for students to board.
We provide transportation services for our students and to avail this facility,parents need to pay transportation fees.
Our administration assigns supervisors to watch over students while they travel to maintain order and safety. These supervisors are in charge of keeping things in line, dealing with any problems that may come up while travelling, and informing the school management of any mishappenings.
Our school effectively maintains communication channels with parents regarding any changes in transportation schedules. We keep parents/guardians informed about transportation updates and notify them of schedule modifications in order to maintain effective communication with them.
Regular maintenance of buses, trained staff, and clear communication are vital components of a reliable school transport system. Our transport facilities at P.N National Public School play a crucial role in enhancing accessibility, safety, and convenience for students, allowing them to focus on their education without the challenges of commuting. The availability of our transport facilities promotes regular attendance, punctuality, and a conducive learning environment, enabling students to make the most of their school experience.