Give your child the 𝗚𝗶𝗳𝘁 𝗼𝗳 𝗘𝗱𝘂𝗰𝗮𝘁𝗶𝗼𝗻
and a 𝗕𝗿𝗶𝗴𝗵𝘁 𝗙𝘂𝘁𝘂𝗿𝗲
.
𝗔𝗗𝗠𝗜𝗦𝗦𝗜𝗢𝗡 𝗢𝗣𝗘𝗡 for 𝗕𝗼𝘆𝘀 & 𝗚𝗶𝗿𝗹𝘀 from 𝐍𝐮𝐫𝐬𝐞𝐫𝐲 𝐭𝐨 𝐜𝐥𝐚𝐬𝐬 𝐈𝐗 𝐚𝐧𝐝 𝐗𝐈.
Honoured to receive 𝐓𝐡𝐞 𝐈𝐜𝐨𝐧𝐢𝐜 𝐚𝐰𝐚𝐫𝐝 from Shri Giriraj Singh Minister of rural development and Shri Nityanand Rai Minister of state for Home affairs Government of India.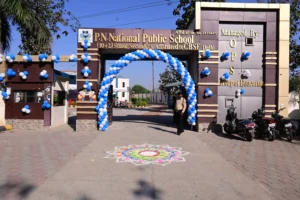 The Government of India started the Swachh Vidyalaya campaign in 2014 to encourage good sanitation, hygiene, and hygiene practises in schools all around the nation. The initiative was launched as part of the Swachh Bharat Abhiyan (Clean India Mission), an international initiative to make India clean and free of open defecation. With the help of the Swachh Vidyalaya initiative, all schools in India will have access to clean drinking water, functional restrooms for both boys and girls, sinks for washing hands, and effective solid waste management systems. The initiative encourages students, instructors, and staff members to embrace healthy hygiene habits. The general cleanliness and sanitation of schools in India have significantly improved as a result of the Swachh Vidyalaya initiative. .The provision of Water, Sanitation and hygiene facilities in school secures a healthy school environment. Girls are particularly vulnerable to dropping out of school, particularly because of students are not continuing their education where toilets and washing facilities are not available. The Government of India has launched the Swachh Vidyalaya Initiative in collaboration with Public Sector Undertakings and Private Corporate for provision of separate toilets for Girls and Boys in all the Government Schools.
In order to maintain good sanitation and hygiene standards, P.N. National Public School have recently implemented measures. By ensuring that kids are taught about the value of cleanliness and hygiene, the Swachh Vidyalaya programme has also helped to the overall success of the Swachh Bharat Abhiyan. This can aid them in keeping a clean and healthy environment at home and in their communities. Overall, through encouraging excellent sanitation and hygiene habits, the Swachh Vidyalaya initiative has significantly improved the health and well-being of school-aged children in India.
There is enough drinking water available for all of the school's students. Our schools are providing acceptable drinking water facilities with Reverse Osmosis (RO) plant with 250 LPH Capacity, the water is easily available, and a sufficient number of cups must be given.
If you are referring to how electricity is generated and used in a school, then it is important for schools to adopt sustainable and environmentally friendly practices. Schools can reduce their energy consumption by switching off lights and electrical appliances when not in use, using energy-efficient bulbs and appliances, and promoting awareness among students and staff about the importance of energy conservation. Schools can also consider installing solar panels or other renewable energy sources to reduce their dependence on non-renewable sources of energy.
Learn More About Academic Program at P.N. National Public School