Sport Facilities At P.N National Public School
Sports facilities are an essential part of an educational institution because they help students to develop important life skills. At P.N. National Public School, Gorakhpur, we support students' complete development by promoting their physical and mental well-being. We encourage emotional health, social engagement and skill development through our sports activities. We believe sports facilities foster a positive and enriching environment for the entire school community.
The various benefits students avail from sports facilities at P.N National Public School include:
Regular participation in sports encourages students to maintain a healthy level of physical activity, lowering their risk of health problems. We promote physical exercise to elevate mood, lower stress levels, and increase cognitive functions among the students.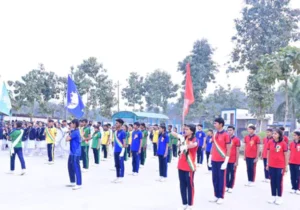 2. Mental Health Benefits
Sports and physical activity for students improve their mental health as it helps in stress reduction, and anxiety reduction and improves their mood..
3.Teamwork and Cooperation:
Team sports activities offer numerous opportunities for students to learn and develop essential skills related to teamwork and cooperation. Students learn to convey and express ideas and strategies with one another during gameplay.
4.Discipline and Time Management:
We believe engaging in sports requires a good amount of discipline and time management skills that help students cultivate these skills.
Sports activities provide an ideal environment for students to develop and enhance their leadership skills. They learn how to convey ideas, motivate others, and provide constructive feedback during sports activities.
Sports facilities serve as a great platform for teaching students about a balanced diet and good eating practices. Our sports classes emphasize the value of balanced meals and eating nutritious foods.

Sports facility At PN. National Public School
We provide open fields for students to prove their skills in a range of sports, such as cricket, football, and soccer. On these sports fields, students are encouraged to engage in regular physical activity. Different sports activities such as cricket, football, and soccer improve student's cardiovascular health as well as their strength, stamina, and coordination during the gameplay.
We have a designated space for the basketball court where students can play basketball. Our basketball court offers a place for physical exercise, the improvement of skills, social contact, and personal development.
We have designated areas where tennis sports like badminton and tennis are played. It promotes competition among pupils while also emphasizing physical activity, skill development, social interaction, and personal growth.
We provide a swimming pool campus that is an excellent form of full-body exercise. Swimming Classes promote cardiovascular health, muscular strength, flexibility, and overall physical fitness. We encourage regular swimming in our students
A track for running and athletic events provides a designated space for running and jogging. We encourage students and staff to engage in regular cardiovascular exercise. We find running improves endurance, cardiovascular health, and overall physical fitness.
Our school's sports facilities are crucial in fostering students' physical, mental, and social well-being and provide excellent chances for skill and personal development. At. PN. National Public School, we focus on the students' academic achievement and moral character, and improve their quality of life. We promote healthy lifestyles, skill development, social connection, and mental and physical well-being.