Give your child the 𝗚𝗶𝗳𝘁 𝗼𝗳 𝗘𝗱𝘂𝗰𝗮𝘁𝗶𝗼𝗻
and a 𝗕𝗿𝗶𝗴𝗵𝘁 𝗙𝘂𝘁𝘂𝗿𝗲
.
𝗔𝗗𝗠𝗜𝗦𝗦𝗜𝗢𝗡 𝗢𝗣𝗘𝗡 for 𝗕𝗼𝘆𝘀 & 𝗚𝗶𝗿𝗹𝘀 from 𝐍𝐮𝐫𝐬𝐞𝐫𝐲 𝐭𝐨 𝐜𝐥𝐚𝐬𝐬 𝐈𝐗 𝐚𝐧𝐝 𝐗𝐈.
Honoured to receive 𝐓𝐡𝐞 𝐈𝐜𝐨𝐧𝐢𝐜 𝐚𝐰𝐚𝐫𝐝 from Shri Giriraj Singh Minister of rural development and Shri Nityanand Rai Minister of state for Home affairs Government of India.
The basic unit of school is Classroom. The Classroom apart from satisfying the minimum requirement of space, fittings and furniture, shall be designed to meet the adequate functional and environmental requirements. classroom can vary depending on the level of education and subject being taught. classroom should be designed to create a comfortable and engaging learning environment that helps students to develop the knowledge and skills they need to succeed.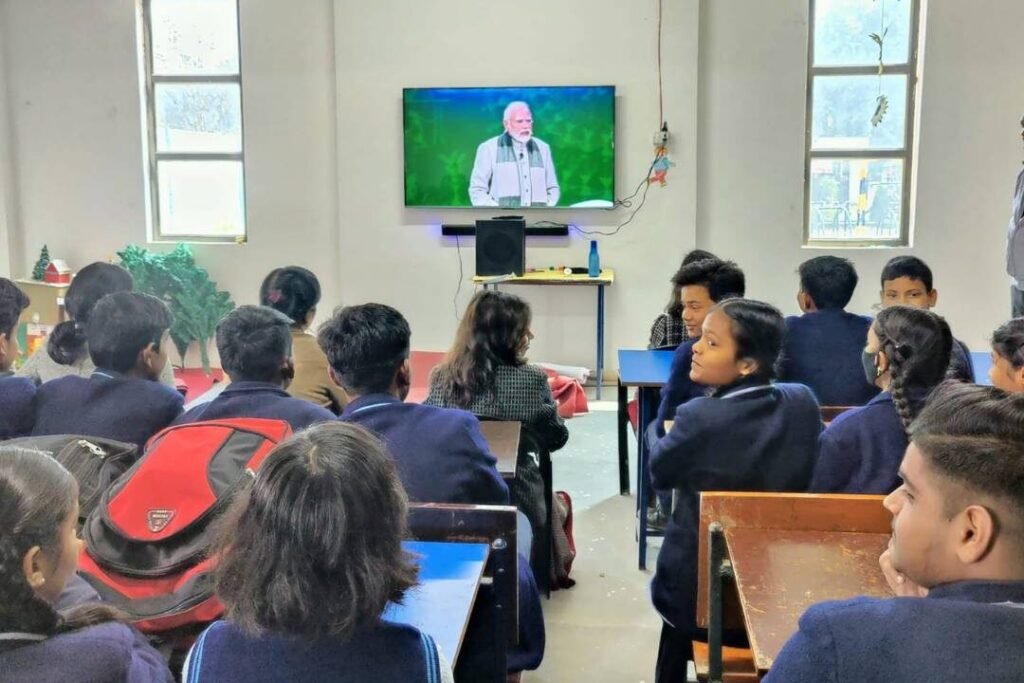 The classroom will typically be furnished with desks and chairs for the students to sit in. Depending on the level of education, the desks may be arranged in rows, groups, or circles.
The blackboard or whiteboard is an essential tool for teaching and learning. Teachers use it to write notes, draw diagrams, and illustrate concepts for the students.
Students will typically be provided with textbooks and other reference materials that they can use to study and complete assignments. Teachers may also use these materials to develop lesson plans and assignments
Digital Classrooms have been creating a revolution in the educational sector. Embedded with modern day technologies, such interactive classrooms offer a friendly environment to the students where they may clear all their concepts while having endless fun. Benefits of digital classrooms are a lot more than one can ever think of. They are ideal for educating the little angels about the most basic rules of learning and also help them in retaining their knowledge. They have not only changed the perspective of students towards studying but have also helped the teachers in preparing dynamic multi-media lessons which can be interesting for students. Learning is more of a fun and less of a burden with the introduction of such digital classrooms in education.
Learn More About Academic Program at P.N. National Public School